Welcome to the
Tennessee Invasive Plant Council
TN-IPC in 2017
It's been an exciting time for TN-IPC.  We changed our name, adopted a new logo, and launched our new Web site!  The content and layout from our old site has a new look, but the resources you've come to depend on are all here, including our invasive plants' information database and native plant landscaping brochures.  TN-IPC's email newsletter provides interesting articles and the scoop on area happenings three times a year.  We're also in the midst of revising our invasive plant list.  More on that as things progress.  Enjoy our new site, and contact us if we can be of help.
TN-IPC Board Meeting
The next board meeting will be Feb. 28, 2017, in Cookeville at 10:00 a.m. CST.
Tennessee Weed Wrangles 2017
Weed Wrangle® is a one-day volunteer effort to help rescue public parks and green spaces from invasive species through hands-on removal of harmful trees, vines and flowering plants. Promoted by Invasive Plant Control, Inc., and Garden Clubs of America, Weed Wrangles have spread across the state, region, and nation.
Most Tennessee sites are scheduled for March 4, 2017, including Nashville, Knoxville, Chattanooga, Oak Ridge, White House, plus numerous state parks and The Nature Conservancy.  Check for Weed Wrangle Web site for information on each event location.
North American Invasive Species Forum, May 9-11, 2017, Savannah, GA
The North American Invasive Species Forum (formerly Weeds Across Borders) is a biennial conference of professionals and organizations involved in invasive species management, research, and regulation in North America. Forum includes the latest information on policy and cross-border coordination of aquatic and terrestrial invasive species management – including discussions on innovative and effective approaches for collaboration with indigenous and tribal groups, local communities, government agencies, industry, not-for-profit organizations, and other stakeholders – with the objective of outlining a continental Strategic Framework for aquatic and terrestrial invasive species across North America.  It will be held at Coastal Georgia Botanical Gardens in Savannah, GA. Visit the link above for more information and registration.
Download the Wildland Weeds Insert of TN-IPC's 2009 Plant List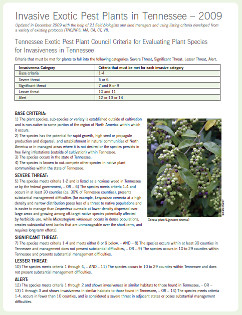 Click the image above to download the document
TN-IPC Newsletters
TN-IPC's newsletters feature news items, informational articles, and relevant links on native as well as invasive plants. Issues are archived and available for review.
TN-IPC in Tennessee
Our mission is to improve public awareness of the serious threats invasive pest plants pose to natural areas and provide solutions to manage those threats. TN-IPC is a chapter member of the Southeast Exotic Pest Plant Council and the national organization, National Association of Invasive Plant Councils.
Become a Member of TN-IPC.
Wildland Weeds Available Online
Wildland Weeds, the official quarterly publication of the Florida and Southeast Exotic Pest Plant Councils and all affiliated chapters, is now available online, including all back issues dating to 1997. Articles cover current research, invasive plant biology, ecology and control methodology, taxonomy, impacts of exotic pest plants, and case studies. Wildland Weeds Library
Join Us!
Membership in TN-IPC is open to anyone with an interest in the problem of invasive exotic plants.

Join Us Today!
TN-IPC on Twitter
Follow @TNIPC